LATEST ISSUE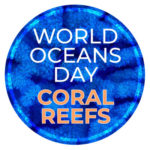 On 8 June 2023, UNPA issues new stamps to celebrate World Oceans Day – focusing on coral reefs. The United Nations recognizes World Oceans Day every year on 8 June to celebrate the world's shared ocean and our personal connection to the sea, as well as to raise global awareness about the crucial role the ocean plays in our lives and the important ways people can help protect it.
The theme for World Oceans Day 2023 is "Planet Ocean: Tides are Changing". The ocean covers most of the earth, but only a small portion of its waters has been explored. Despite humanity's utter reliance on oceans and compared to the breadth and depth of what they give us, the oceans receive only a fragment of our attention and resources in return.
Oceans feed us, regulate our climate, and generate most of the oxygen we breathe. They also serve as the foundation for much of the world's economy, supporting sectors such as tourism, fisheries and international shipping.